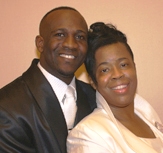 Welcome to Kingdom Life Ministries (Pentecostal Assemblies of the World). This is a home where you will find rest and comfort as you escape the troubles and difficulties of the world to experience new life in the Kingdom of God. Our ministry is dedicated to the cause of Christ as we seek to brighten your day and enrich your tomorrow. God has prepared us as vessels to help you reach and experience your divine destiny.
We are happy to have you visit our ministry through this media and it is our prayer that your visit will bring forth a life changing experience. Please feel free to join us in worship and in ministry, but more importantly, in our effort to build the Kingdom of God in the hearts of men and women.
Today is a new day, a new beginning and we declare that your lives will never be the same again. I speak the blessings of heaven upon your life and within your spirit.
Pastor and First Lady Smith